Repairs on most anything
Our rebuilding facility is equipped to handle your most difficult job from hydraulic cylinders to complex gearboxes. Our services include simple bearing replacement to a complete rebuild. Complete rebuilds include:
Complete disassembly to bare housing and cleaning by
de-greasing and/or sandblasting.
Set-up and check alignment, bores, etc.
Weld up bores if required.
Machine frame, rebore as required.
Repair seal diameters.
Reassemble unit.
Set clearance, backlash, etc.
Finish Paint
A minimum of two maintenance machinists are on call 24 hours a day, 7 days a week to service your breakdown needs. Simply call our regular number (815) 223-4058 and let the computer answering service walk you through our options. If its an emergency punch the number corresponding to the machine shop and leave your message. In a matter of minutes a supervisor will call you back and set the wheels in motion to solve your machining problem.
The typical equipment we rebuild or repair include: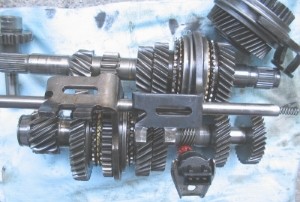 Machine Tools
Mechanical Seals
Compressors and Blowers
Gearboxes (Right Angle, Shaft Mounted, Parallel Shaft, Worm, Helical, Planetary)
Hydraulic and Pneumatic Cylinders
Mechanical and Hydraulic Presses
Molds and Dies
Pumps (Centrifugal, Vertical, Multi-Stage)
Rotary Valves and Airlocks
Crushers
Vibrating Screens